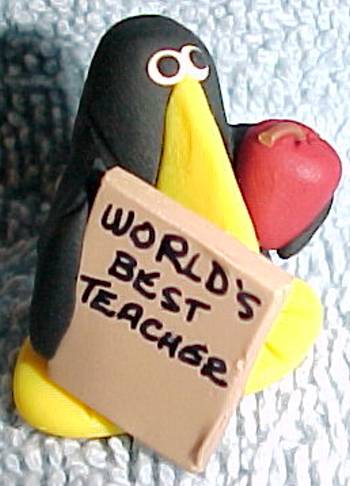 For more than 15 years now, I have been waiting for this moment to come. Half of my life was spent just so I can reach this. But what else do I need to do before I go and build my future? Although it's not official yet (and I am claiming this to happen! :D), I am proclaiming to the whole world that yes, I will be graduating. I am expecting at least =))
As suggested by this post's title, I am about to thank a lot of teachers. Not just because they let me pass the subject but because they have been outright funny, intelligent, caring (some of them though), and because they lead me to the way of success :D I am thanking them because I know that with all those unending lectures and long equations, they have been a part of who I am today; a cliché yet so true.
Let's start with Ms. Victoria Tatad-Pre. One of the most caring and loving teacher that I have ever had was her. She teaches with passion and you could conclude that she loves teaching, especially the subject she's teaching. The first encounter I had with her was very memorable. It was in Dotterweich building in Ateneo de Davao University. Since the subject was Literature, she asked us about a line or two of a poem. Any poem, even a nursery poem would do. Everyone was ecstatic since we could gain points by just reciting a little excerpt of any poem. Unfortunately, I can't remember any poem. Jainar was one of those people who got the extra point. :P She became our Lit 2 teacher which made the bonding between her and the class even more memorable. Literature 2 was all about the different Philippine drama. So before the end of the semester, we were required to do a dramatization of any Filipino drama. It was nerve wrecking since the other groups really prepared a lot to the extent of practicing every night. It was a real fun. A lot of our happy memories could be traced to this subject and to Ma'am Pre as our teacher and parent. :D
Mr. Fenicios was one of the teachers who taught me how to value studying. I failed in my College Algebra. He was my teacher then. Maybe I became too lax that I didn't take the lessons with much enthusiasm. So the first grade that I got for the prelim was 70+ I guess. Then midterms came, a line of 7 was again laid in my lap. After the whole semester of battling my way to pass the subject (did I?:P), Mr. Fenicios asked those failing students to take a removal test. I never studied. And as expected, I flunked the subject. That was one of the reasons why I considered Information Management as an alternative course instead of Information Technology. Next semester, I decided to retake the subject. There were times that Mr. Fenecios and mine's paths would cross. I was hesitant to say hi to him since in my mind, he'll mock me with my stupidity. It's a total embarrassment for me. The whole experience serves right for a student who never studies her lessons.
Though I became passive with my College Algebra, the situation with my Business Statistics was very different. Ms Tonogbanua became my teacher on that subject. She was precise, efficient, and rule abiding. I remember her strictness on time. She's an old woman with a sense of awesomeness with the way she teaches. I was really caught off guard the first time we had our first class session with her. She teaches well and fast. One thing that she never forgets to bring was her AbosoluteTM water. Prelim was hard. She made it to the point of grilling us until we can never secrete any juices from our brains. And since I am no good with Math, I failed my preliminary grade. I was around 60 plus. It was a big slap on my face. The score showed that I almost did nothing on her subject since 65 was the equivalent grade for non-attending students. The next grading, I worked every night to study. I could say that I did all the best I could in order to pass. All those sleepless nights was the reason behind my 10-point leapt in my grade. Yet, all that I could say after she showed us our grade was a big OUCH. She told me that all my classmates' grades went down. It was just me who managed to pull as much as 10 leaps but still, it wasn't enough to cover my previous failure. I cried after that. I felt so betrayed by the cells on my brains. All my efforts were in vain. I got so down that I didn't do well on the finals. And my final grade was 72. :( It simply broke my heart. Still, she taught me not only the deviance of a statistical testing but also made me realize that I have to give my all no matter what.
Sir Lunar Fayloga was the super active and funny teacher I have ever had. He told us a lot of stories that would eventually make the whole class laugh. As a Theology teacher, he never failed to connect different lessons to our experiences. There was never a dull moment if you're on his class. All you have to do is listen and laugh. He was one of those teachers that I respect so much. He's been my crying pal, my shock absorber. I cried on him, pouring every thought that I could think just so I can alleviate what I felt that time. I was grateful he was there, listening, comforting, and making me feel as important as Queen Elizabeth. I will never forget you sir :D
Mr. Victor Emmanuel Hanopol was one of those people that I wanted to say thank you. From helping us to be a decent IM students to those times that I wanted to punch your big belly; all I could say is thank you :D A great motivator, sometimes at least since he would always point us to google the things that we were asking :P All I can say is thank you, thank you and thank you. You have been a good listener and a good gossiper :P I will never forget your intellectual jokes and the time one time that you almost made me cry:P I wish you all the happiness in life and may you be blessed in your new place. :D My prayers are with you always :) You will always be my father in ADDU :D Godbless pa, :)
How blessed am I meet someone like Sir Roy Geralde. The joy that you have given to us (Kim and Kai) was more than just the help of passing us on Systems Analysis and Design. I thank you for being so warm, supportive and accommodating. I could never thank you enough for the "acting stint" that you did :D I am so grateful that you're our adviser. I would always look back to you no matter where I go and would contemplate to all the help you've bestowed on us :D All the good adjectives would fit you. Thank you Sir. I know Kim and Kai feel the same grateful way that I feel to all your help and kindness :)
I can't thank all of the teachers in one paragraph each so I'm giving this part to them: To Mr. Edwin Marañon because you have witnessed how difficult it was for me to be shifted to another division, thank you for giving me another chance :D; to Sir Rey Aliño for being so warm and supportive, to Sir Stony Freires for being a friend and a big brother to us, to Sir Oneil Victoriano being sooo funny and patient with us, to Ma'am Grace who's always ready to give a smile, to Ms Tetet for being strict which made us work hard more and for considering my tardiness, to Ma'am Michelle fir being sooo kind, and to Sir Marvin Javier to those hi's and hello's that you have given to me :D; to Miss Mae, Mr. Jeson, Kuya Noe and Ate Annette for making me smile once in a while, coz you see, I consider you my friends :D and to all the other teachers and staff of the Computer Studies Division, I thank you for molding us, me and I really hope that you will see me as a successful person someday :D Thank you and I will miss all of you :D